Are you using Gmail account (or any other personal email services such as Hotmail.com, Outlook.com, Yahoo.com) to access your Google Ads Manager Account (old name My Client Center/MCC)? You probably have a problem with new Google Partners requirements that takes effect in February 2022.
Google requires at least 50% of eligible users in your company to be certified in Skillshop. I am a freelancer specialized in PPC, there are no coworkers in my case. It is just me, but Google shows I need to certify at least 31 users.
It is not really a bug because Google doesn't plan on fixing it but it is a problem for current Google Partners with personal email services accounts used to access their MCC registered for Google Partners.

What Google recommends?
Announcing these new requirements raised a lot of controversy around the world. For that reason Google created an official FAQ page.
They do address this problem with Gmail accounts but they didn't think it through.
It consists of using company domain email account (such as info@yourcompany.com) and removing Gmail access.
When you remove Gmail access from your Ad manager account, it causes more trouble, for example:
Your Google Data Studio reports stop working,
All Google Ad scripts need to be authorized by new account,
Scripts that are using Google Sheets will not be able to access them because the new account doesn't have access to them.
It would take long time to solve all these issues.
How to do it correctly? Use superior MCC!
After a few months I got an idea to try superior MCC and it worked brilliantly! It didn't cause any collateral damage at all!
Your Gmail account will still have access to all Google Ads accounts so it does not influence other Google services in any way.
This is the final structure you need to achieve. Pictures speak louder than words so here it is: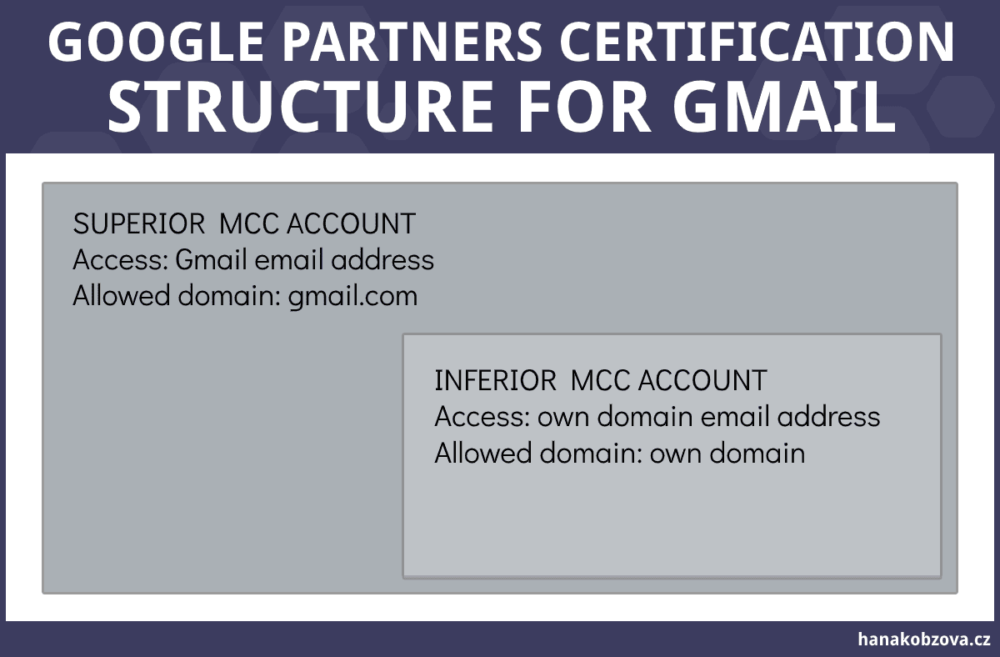 You need 3 email addresses:
original Gmail account access
company domain email account
auxiliary email address
To be able to use your your company domain email account for Google services, you need to turn it into a Google account. There are 2 ways to do it:
Gsuite — paid option
Google account — free option
If you choose to convert your company domain email account to Google account for free, go to Create your Google Account and choose Use my current email address instead. After finishing the wizard, you will be able to use your company domain email account for Google services.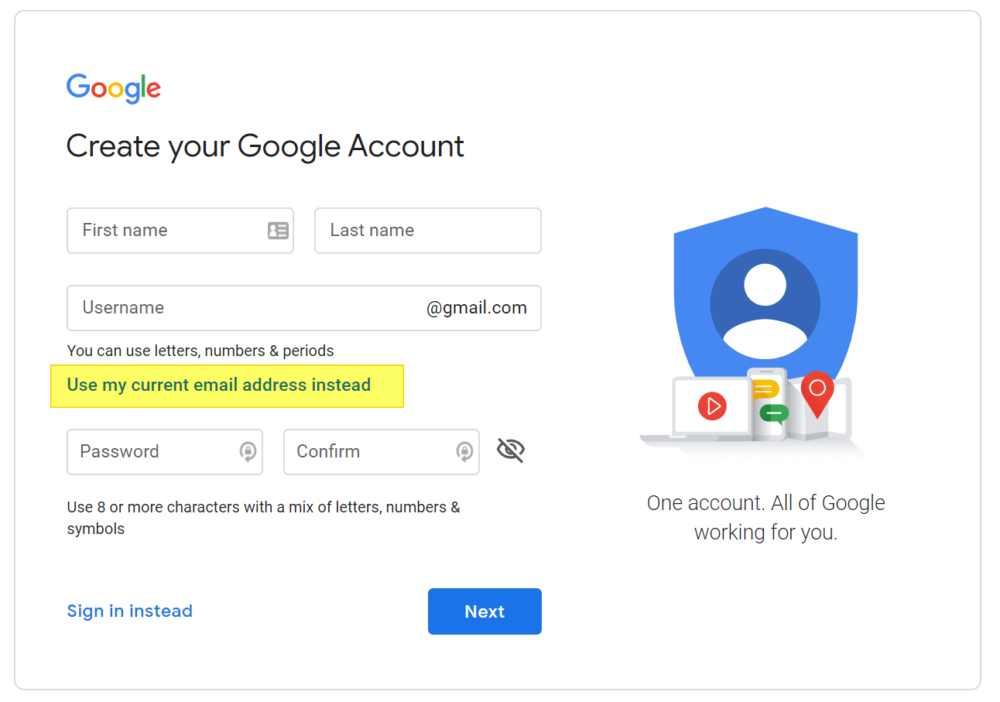 Step by step guide
Create a new MCC account using your auxiliary email address,
Grant your company domain email account access to your new MCC account,
Remove Gmail access from your MCC account,
Link your usual MCC account to your new MCC account (new MCC account becomes superior),
Grant Gmail access to superior MCC,
Remove auxiliary email access from superior MCC,
Remove Gmail.com from Allowed domains in your usual (now inferior) MCC,
Update your company email address in Skillshop to your company domain email.

DONE!
In maximum of 24 hours you will see your Google Partners status for 2022 updated!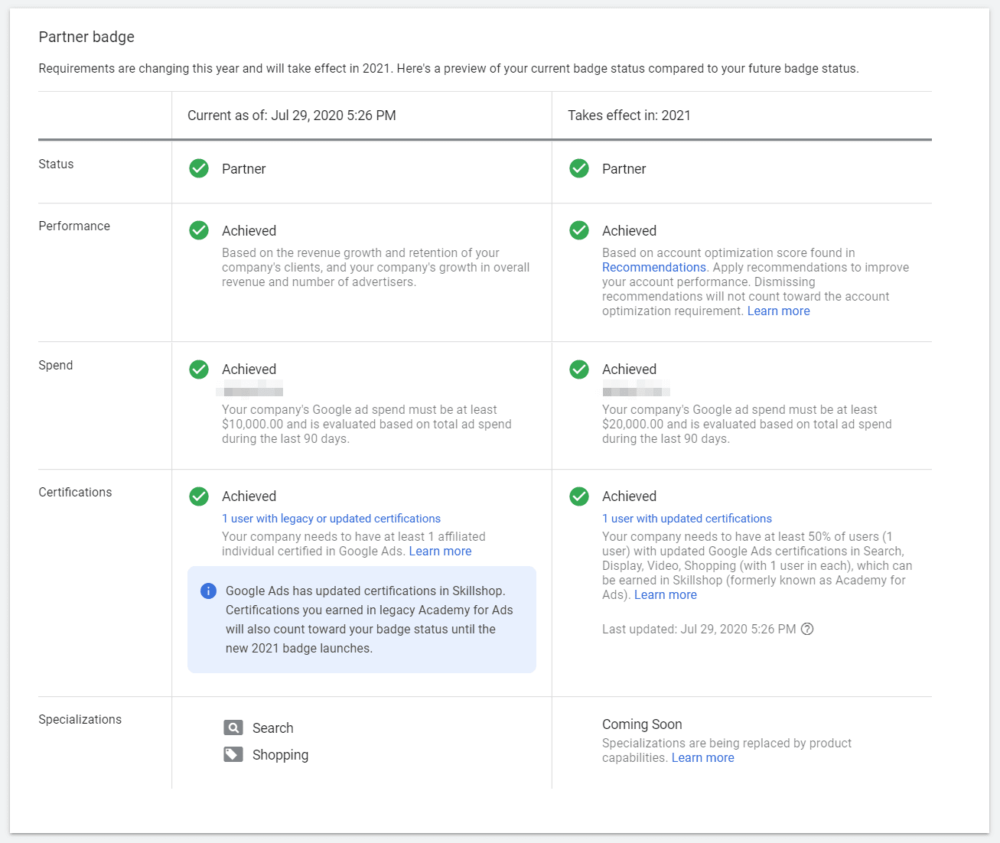 Challenges you might face during this process
Maximum account limits for manager accounts
I recommend doing this process on Friday because creating/linking a new account to your MCC might be limited.
New manager account (your new MCC) has a limit of 50 accounts. The limit increases based on spend but Google needs 24 hours to recalculate spend in your MCC. After 24 hours you will have no problem with adding new accounts.
If you have less than 50 accounts in your MCC, you will not face this problem.
No Google Partners section in your MCC
Google Partners program is linked to your MCC account therefore it is only visible in your inferior MCC.
Google Partners requirements update
Google Partners requirements are updated once a day. Check the last time it was update and return again the following day after completing this guide to see if you meet the requirements.
If you have any questions or need further information, please feel free to contact me.
This post was also published in Czech: Málo certifikovaných uživatelů pro Google Partners?
Jsem online marketérka na volné noze. Specializuji se na PPC reklamu v Google Ads a Sklik. Baví mě přemýšlet nad efektivitou mé práce, proto často objevím nějaký trik či vychytávku, jak zefektivnit práci na PPC kampaních nebo si sem tam naprogramuji užitečný skript, aby mi šla práce lépe od ruky. Hledáte PPC specialistu? Zjistěte o mě více nebo mi rovnou napište!